How One Commercial Changed the Way Armstrong World Industries' Does Disability Inclusion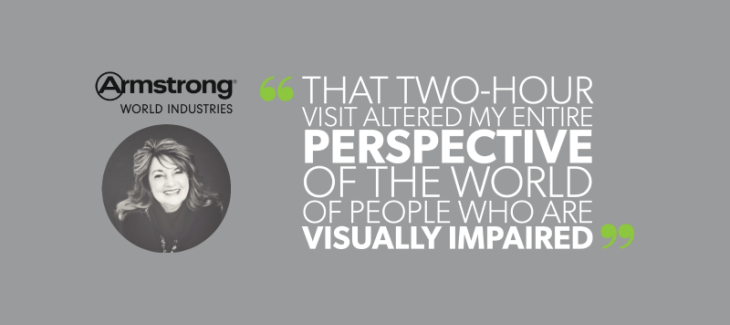 Guest Author: Claire Kilbourne, Talent Attraction & Acquisition Manager | Armstrong World Industries
Armstrong World Industries (AWI) is a company eager to strengthen disability inclusion in their workplace and implement strategies for success. Their journey toward inclusion began after Claire Kilbourne, Talent Attraction and Acquisition Manager at AWI, saw a commercial for the National Association for the Blind. Curious about the issues that blind and low-vision individuals experience in her local area, she reached out to VisionCorps, an organization that specializes in providing employment opportunities and rehabilitation services to 2,000+ Pennsylvanians who are blind or visually impaired. Claire initially connected with Sherry Harry, Vice President of Business Development and Marketing at VisionCorps, to schedule a visit to their office. According to Claire, "that two hour visit altered my entire perspective of the world of people who are visually impaired."
Meeting a variety of employees from CEO to staff associates on her tour of the facility, Claire witnessed first-hand the pride and excitement that comes from this disability-led company's operations. By partnering with organizations such as AbilityOne, National Industries for the Blind, and SourceAmerica, VisionCorps helps foster independence for people who are blind.
On her visit, Claire also learned the practical, day-to-day realities of how blind and low-vision employees navigate an office environment, including computer skills, manufacturing, and project support. Energized by her visit, Claire looked forward to finding ways for AWI to partner with VisionCorps. As one of their first collaborative efforts, VisionCorps led a training for AWI staff about the experiences of people who are blind and low vision. Remaining committed to this partnership, Armstrong has since scheduled disability etiquette and unconscious bias training with staff in their Human Resources, Recruitment, and Talent Acquisition departments.
Claire's initiative to seek out disability community organizations and learn about their services is a commendable model for fostering disability inclusive workplaces. In 2019, AWI began working with Getting Hired to continue to grow their disability inclusion efforts, and have worked with them to craft a company accommodation statement and participated in a Getting Hired virtual career fair. AWI is proof-positive that we all begin our disability inclusion journeys in various ways. Ultimately, it doesn't matter how you start, but that you commit to the journey.