Voting, Disability & Inaccessibility: My Journey to the Polls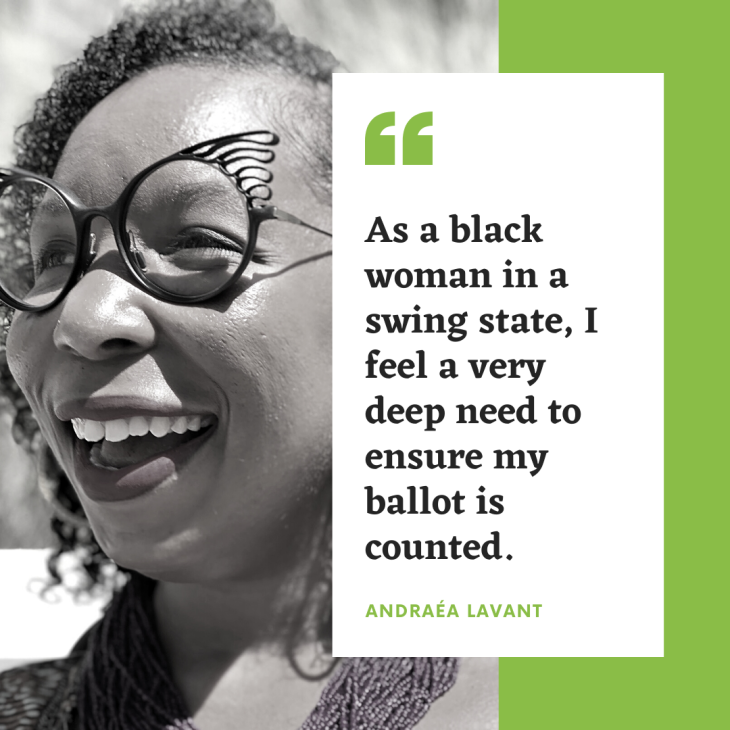 Guest Author: Andraéa LaVant, President & Chief Inclusion Specialist | LaVant Consulting, Inc.

Voting as a physically disabled person has never been an easy process for me. In years prior, I've had to navigate inaccessible buildings, difficulty accessing the voting booth, and transportation issues just getting to my voting location.
I'm not the only one. According to "Voters with Disabilities: Observations on Polling Place Accessibility and Related Federal Guidance," a report conducted by the U.S. Government Accountability Office, nearly two-thirds of the examined polling places on Election Day 2016 had at least one potential barrier including lack of accessible parking, inaccessible paths to the building, steep ramps, or lack of a clear path to the voting area. While most polling places had at least one accessible voting system, only one-third had a voting station that didn't allow people to vote privately or independently.
This year, the pandemic has made voting even more challenging for so many of us. Not only are there general accessibility concerns, but there's even greater concern for those of us with pre-existing conditions as we risk exposure to the coronavirus. For me, this goes beyond exposure at polling locations. As an Arizona resident, I generally rely on public transportation to get around. Right now, using public transportation provides even greater risk of exposure to the virus. In so many ways, voting has felt more and more inaccessible this year. Yet, voting is more crucial now for disabled people than ever before. The outcome of these elections means life or death for so many of us.
"Yet voting is more crucial now for disabled people than ever before. The outcome of these elections means life or death for so many of us."
Colleagues and friends have offered promising suggestions for safely accessing voting this year: mail-in your ballot, catch an Uber/Lyft, get a ride with someone. For each, I have a rebuttal…

As a black woman in a swing state, I feel a very deep need to ensure my ballot is counted. In short, I don't trust the mail system to get my ballot where it needs to go. I maintain absolutely NO judgement for those who have voted by mail or in other manners. For me, it was simply important to ensure I went in-person to drop my ballot in the box.
As far as other forms of transportation, many people don't realize that most states do not have wheelchair accessible Uber/Lyft programs. I don't have access to on-demand transportation, nor easy access to anyone that owns a wheelchair accessible vehicle.
So, with all of this in the forefront of my mind, like many other disabled people, I decided to think through a plan. Here's where I landed:
Plan to vote early (to avoid crowds)
Identify my early voting location
Research accessibility of the facility
Rent a wheelchair accessible van (to avoid public transportation)
Pick a date to go with a friend
Vote!
I realize that my plan would not work for everyone. Renting a van was costly. Having a friend available to drive isn't an option for everyone. It was about identifying a plan that worked for me.
On voting day (October 24), I was pleasantly surprised to encounter a very accessible experience. Parking and access to the building was easy. For the first time, I was able to use a voting machine that I could access on my own. Poll workers were incredibly helpful and what joy it brought me to physically place my ballot in the box.
It's my hope that my successful voting experience is not an exception to the norm, but that all 38.3 million people with disabilities who are eligible to vote in this year's election will have the knowledge and resources they need to ensure their voice is heard.