How to Take Care of Yourself During the Holidays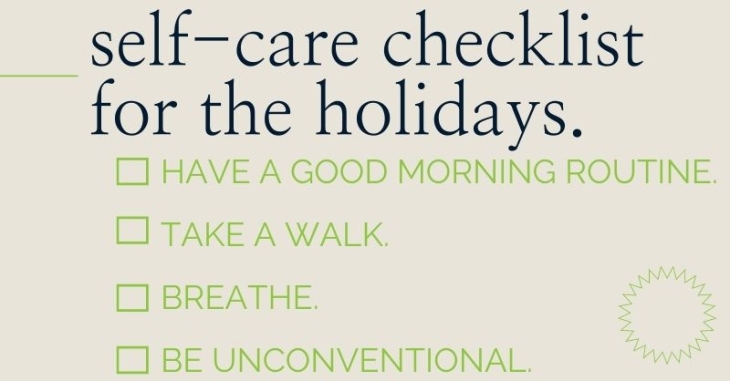 The holidays can bring a lot of stress and uneasiness, but I want to share some ways this time of year can be more relaxing and more joyus. Here is a self care guide that has helped me take extra good care of myself.
Self care during the holidays can help you feel better and more relaxed. The holidays, a more challenging time of the year, can inspire you to have new habits and interest in putting yourself first.
Everyone tries to make resolutions for the new year, but why not start now with some easy routine ways to ease your mind, body, and life.
Have a good morning routine.
Now this is easier said than done, but definitely achievable if you give yourself the time.
In the beginning, make it short and sweet. Don't overwork yourself trying to find things to fill a 30 minute morning routine. You can use this time to sit quietly with a cup of coffee or tea, or whatever you prefer, meditate, journal, go for a walk, or any other activity that can feed your body in healthy ways.
Go outside and enjoy a brisk walk. This does not need to be because you have to work
out or fulfill some sort of goal or step. Take this time to enjoy yourself and think about the intentions for the day.
Breathing can be the most relaxing and well worth activity if you find yourself in the
bubble of stress during the holidays. If you can stay in the moment of breath in, breath
out, it can help avoid overreacting and overthinking.
Take the time to do things you would not normally do. If you allow yourself to take this
time to relax and enjoy, do something for yourself. The holidays may feel like you have to give and give to other people, but why not give to yourself? Take that bubble bath, have a nice massage, drink your favorite holiday beverage, or even read a good book. Whatever it looks like for you, do it and enjoy it to the fullest.
This may not be a long list, but it is a great way to help ease the body and mind from the stress the holidays can bring. Being with friends and family is wonderful, but it is also wonderful to feel happy and healthy about yourself. This holiday season give the gift of giving to yourself and make it one to never forget.