Making Mental Health Matter With Capital One's Gray Matter BRG | Getting Hired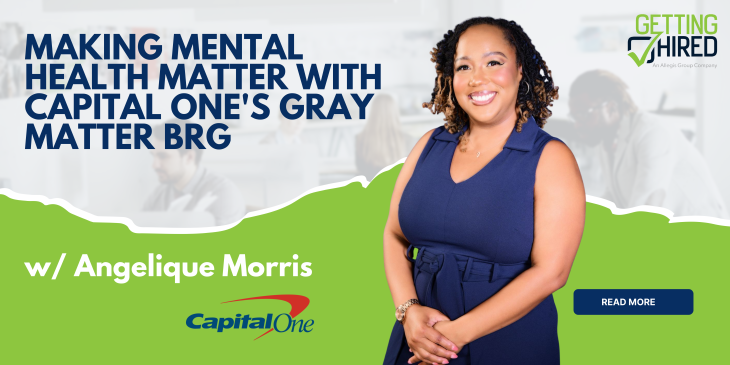 Getting Hired is proud to partner with companies that are doing the work that matters and our partners at Capital One are dedicated to creating inclusive work environments. July was Minority Mental Health Awareness Month, and we were able to catch up with Angelique Morris who leads Capital One's Business Resource Group (BRG) Gray Matter. Learn more about her journey with mental health and how you too can be an advocate for championing mental health awareness in the workplace.

Created in 2017, Gray Matter is the mental health workstream of the CapAbilities Business Resource Group (BRG). It was initially a standalone connection group at Capital One with multiple blogs sharing information about mental illness and managing mental health in the workplace. In July 2017, Gray Matter held its first panel in acknowledgment of minority mental health month. Shortly after, Gray Matter became part of CapAbilities BRG as the mental health workstream.
The beginning of my mental health journey and how Gray Matter – the mental health workstream of the CapAbilities BRG at Capital One – got started are inexplicably intertwined.
For me, Gray Matter was a lifesaver at a time when I didn't understand who I was anymore or what I was going through. In April 2016, a year after having my daughter, I began seeing a psychologist with the belief that I had depression, possibly stemming from untreated postpartum depression.
Within a few months of trying talk therapy and several antidepressants, my psychologist recommended I see a psychiatrist. Unbeknownst to me, she suspected I was dealing with more than depression. Back then, trying to find a psychiatrist that had availability was like finding a needle in a haystack, and I was unable to find someone who could see me.
Shortly after, I had my first manic episode at work. What I remember most about the experience is that I could not gather any logical thought. Instead, I spent quite a bit of time crying and apologizing for being hysterical. My manager and his assistant did not know how to respond. A senior leader entered the room I was in and immediately knew I needed to go to the hospital for care. He was very kind and was able to communicate to me in a way that calmed me down. That's a memory that sticks out to me – his kindness and calmness at a time when I was anything but calm.
The next day, I received a diagnosis of Bipolar Disorder and Complex Post Traumatic Stress Disorder (PTSD). After seeking outpatient treatment, I returned to work a month later. I did not feel like myself and was struggling to navigate resources with my new diagnosis. I began to search our internal websites and could not find an easy explanation about what resources applied to me.
Even more frustrating, I could not find a single place where mental health or mental illness was discussed among associates. Realizing I couldn't find fellow colleagues that had navigated this same diagnosis was a watershed moment for me. I decided I wanted to do something to change this. It was important to me to create a space where others could find resources and connect with associates going through similar things.
I settled on the name "Gray Matter" and began writing internal blogs highlighting mental illness. The inspiring part was that people actually read them! They would leave comments sharing their own experiences or simply thanking me for acknowledging an important topic.
A few months later, I was invited to participate in a panel discussion on mental illness at work by the Empowher BRG. While it was an amazing panel, it was also jarring for me. I was the only person of color, and I was the only person diagnosed with a severe mental illness. I still felt left out in a space where I should have felt included. It became a mission for me to put together my own panel that was intentionally inclusive and change the narrative that those with mental illness are not just people of color.
With July being Minority Mental Health Awareness Month, it seemed the perfect time to have the panel. Through the support of associates that started to read the blog and leaders within CapAbilities that were taking notice, Gray Matter held its first panel, titled #NotAlone, in July 2017.
The panel featured associates from different backgrounds and identities. Participants openly discussed their mental health issues and how their backgrounds and identities tied into how they seek care, have discussions with loved ones and the additional stigmas they are working to overcome. The panel discussion was well received by associates due to its honest, open conversation and tone. From there, Gray Matter took off, and we became a formal group – included as a workstream for CapAbilities that set out to change the culture of how mental illness is discussed at Capital One.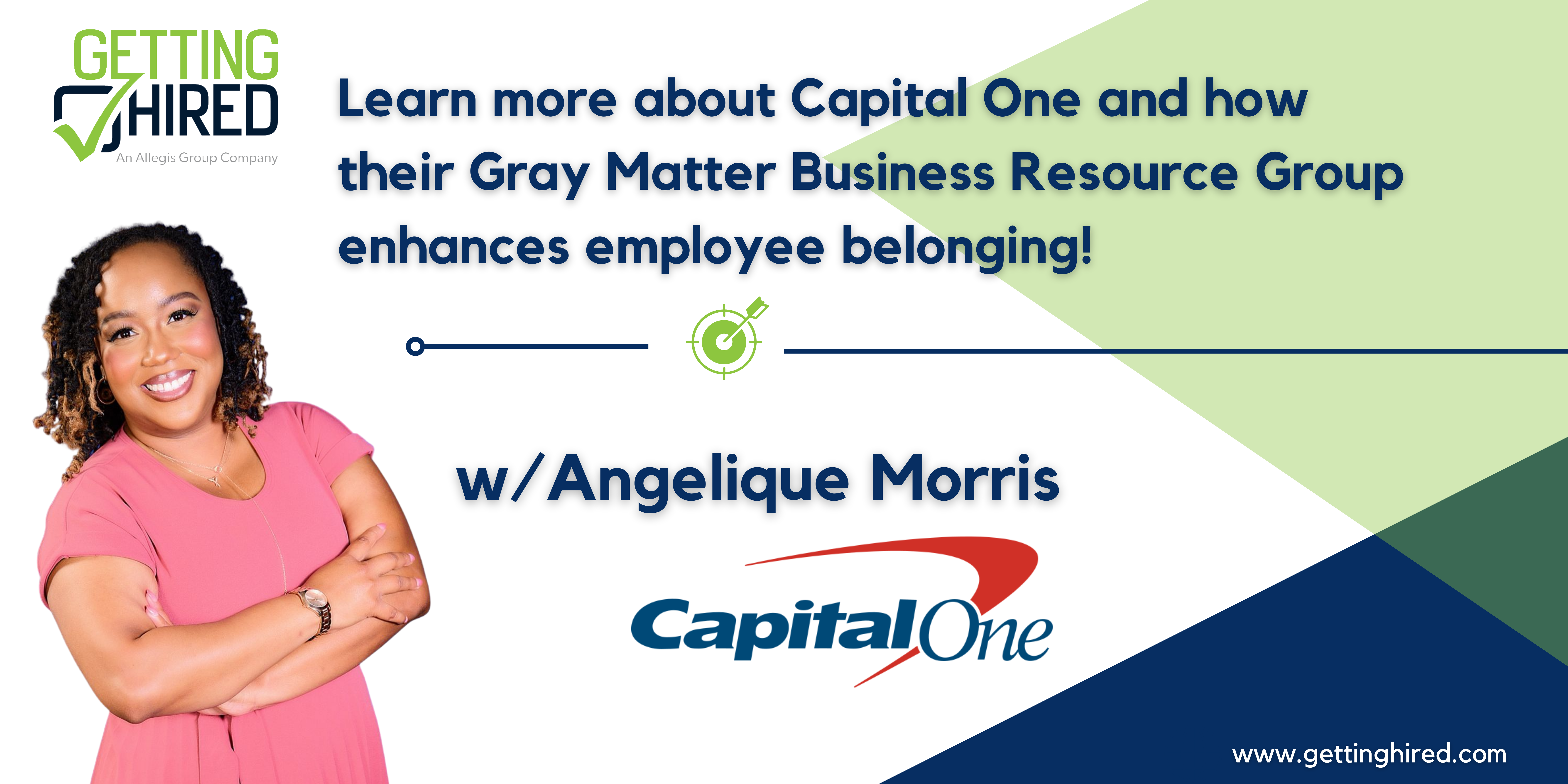 Gray Matter was founded with the goal to just help one associate. For me, that goal was partly based on how I felt when I was first diagnosed – lost and lonely. The goal was created based on the statistic that most suicides come after being diagnosed with a mental illness. Speaking from experience, being "suicidal" comes down to having irrational thoughts and not having anyone to turn to for support.
Through the Gray Matter Slack channel, we have been able to connect more than 2,400 associates to a safe space. Associates actively engage in conversations that range from discussing the symptoms they are experiencing, leaving positive messages for those that might need it, sharing how to use resources or legitimately asking for help during a crisis. It's amazing to see the impact of just creating space to discuss these topics.
In addition to the Slack channel, Gray Matter has continued to drive awareness through event planning and presentations. The workstream has put together panel discussions across sites (pre-pandemic) and virtually, where associates share their experiences and provide guidance for people that may need it.
Further, Gray Matter has partnered with National Association of Mental Illness (NAMI) for multiple events to ensure that associates have relevant information and can connect to an organization that provides resources for both caregivers and those diagnosed with a mental illness at no cost. Each year a theme is selected, and a hashtag is used so associates can find Gray Matter (and the resources) if they attend an event or share their own experiences to help someone else.
Last year, the theme was #BetterTogether. Our efforts centered on the experiences of the family and friends of those with a mental illness. This year, the theme is #StillStanding, and Gray Matter will focus on domestic violence and addiction. Both topics are associate-requested and driven.
Over the past five years, there have been many events and discussions on mental illness, and I have been blessed to plan most of them. The ones that stand out to me are the panels where associates are extremely vulnerable in front of hundreds of associates. In the "Let's Have the Talk" 7-part series, Gray Matter partnered with the HR DIB department to discuss what it means to be Black and an Ally at Capital One. As a black woman, I know firsthand that my identity is tied to my mental health, and it was an honor to see associates engage in intentional conversations with openness and compassion.
Last year, two Executive Vice Presidents held an hour-long discussion on their personal connection to mental illness and encouraged leaders to step up for associates that need support. This year we invited Beverly Gooden, and her presentation on domestic violence was moving and impactful. I could go on forever about all these incredible events, but all of them have a common theme: people left feeling heard, seen and valued. To receive an email where someone asks to connect, or even states that they found the resources, is the ultimate goal, and Gray Matter continues to achieve it.
When I started Gray Matter, I had a few "pie-in-the-sky" wishes. I hoped it would be enterprise-wide with full leadership support. Another goal was to have access to a budget for guest speakers on relevant topics for associates that needed to hear from professionals, and happily, that has occurred.
And, just as importantly, I hoped to have meaningful discussions with leaders about benefits and leave, create informative training and help build policies that align to supporting associates with disabilities, particularly those with mental illness. I am happy to share that over the past five years, all of those dreams have come true!
With that said, I recently announced my intent to pass the Gray Matter baton to a group of leaders I know can dream even bigger. I am taking a step to the side (not away) and have begun leading the Storytelling Workstream for CapAbilities BRG, where I will work to highlight associate stories and topics that are meaningful for those with disabilities. I am also continuing to work on policy changes and training for those with mental illness.
On a personal note, I am still managing my own mental health each day. My diagnosis is progressive and lifelong, but I know that I can lead a normal, healthy life. It is also important for me to combat stereotypes. As a black, disabled woman I am the sum of my identities and do not intend to be held back by them. Instead, I will be part of the change, and I will continue to make a positive impact.
It's not lost on me that there are not a lot of companies that would have allowed an associate to do all that I have been able to do, particularly at my level and with my diagnosis. Capital One did, and that has meant so much to me.
Throughout all of this, I have graduated from college (in my thirties, no less), started on my master's degree, and received multiple promotions. I am now a people leader, using my problem-solving in unique ways each day. I appreciate the space I have been able to create for myself and the representation I have been able to provide along the way. I hope to continue to drive cultural change and be a beacon of what can be for those that need it.