Let's Celebrate LGBTQ+ History Month! | Getting Hired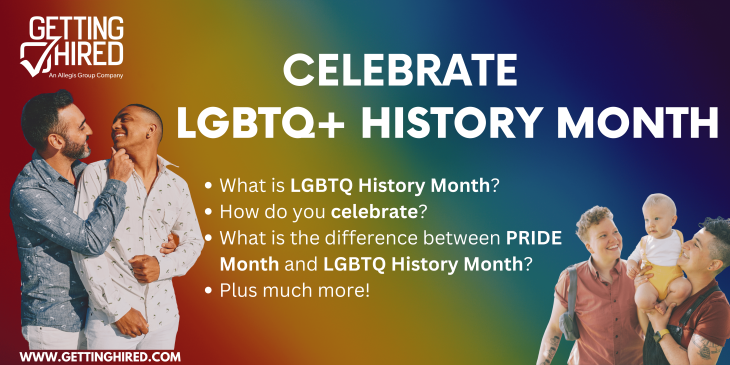 "The greatest act of advocacy for civil rights for LGBT Americans is the act of coming out. LGBT history gave me self-confidence as a gay person and strengthened my resolve to live, as best I could, an honest, open, and integrated life."
~ Rodney Wilson, founder of Gay History Month


Did you know that October is LGBTQ+ History Month? I had no idea until this year! Join Getting Hired for a little exploration of this wonderful news!
How is LGBTQ+ history month different from Pride in June?

Well, I am glad you asked because I had the same question! Gay and Lesbian Pride Month was officially declared nationally in 2000 by President Clinton and was later expanded to include the entire LGBTQ+ community in 2011 by President Obama. June was chosen to align with the anniversary of the Stonewall Uprising which occurred in June 1969
LGBTQ+ History Month, on the other hand, was first established by high school history teacher Rodney Wilson in 1995 who chose the month to coincide with the already set National Coming Out Day (October 11th). Wilson's proposal was included in a list of commemorative months that were part of a resolution passed by the General Assembly of the National Education Association in 1996. Since that time, specific days have been established In October to highlight some of the beautifully diverse branches of our community, including International Pronouns Day, Asexual Awareness Week, Intersex Awareness Day, Lesbian Awareness Day, Spirit Day to show support for LGBTQ+ youth, and Ally Week.
Why do we have these different times set aside for the community?
These special times allow us to highlight the work of leaders, role models, and advocates within and for the community. Check out this link to see highlights of 31 community advocates today: https://lgbthistorymonth.com/
By celebrating all the nuances of gender, romantic, and sexual identities, we bring awareness to the beautiful diversity within our human family and make intentional space for one another. We need every tool available to us to continue to drive advocacy efforts as there are still many rights withheld from people within the community, and rights we've been awarded can still be at risk.
How can I make the most of LGBTQ+ History Month?
Check out the information provided by some of these amazing organizations: GLADD, Human Rights Campaign, National Gay and Lesbian Task Force, National Education Association, and Equality Forum.

Stay curious

. Most of us know about the landmarks at Stonewall in NYC and Harvey Milk's camera shop/campaign headquarters in San Francisco. But did you know that Kentucky's first-ever historical site celebrating LGBTQ+ history is The Bar Complex in Lexington, a still-vibrant meeting place for the community reaching back to 1939? Or that the first gay rights group in the US was established by Henry Gerber in his Chicago apartment in 1924? There are so many people, groups, and places to explore that honor our journey toward equality and justice.
Choose one or two of the days included in this month to celebrate. One suggestion – wear purple on the 20th to show support for LGBTQ+ youth in honor of Spirit Day! Utilize social media to bring further awareness to the day you choose to promote.
Remember to always create space for that which you don't know or maybe don't understand, because this is how we continue to grow.

Learn more about Getting Hired's LGBTQ+ Talent Community here!


Content Contributor:

Mandy Kampen is a Program Specialist with AGS's Caterpillar team. She is an avid hobbyist, a self-proclaimed "indoor cat" who loves all things dedicated to nerdiness, spirituality, or wellness. Her current home is in Peoria, IL with her fiancé Angela and their two furbabies, Baxter and Sir Henry Fancypants the Third.