A Guide To Moving to a New Job Location | Getting Hired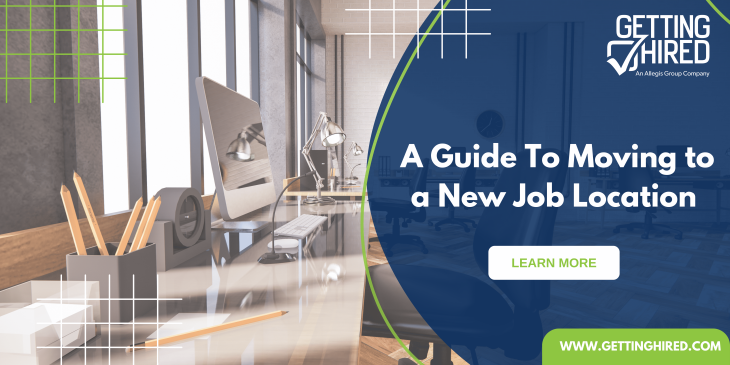 Taking a new job is exciting, but moving to a new location can be daunting. With some preparation, you can find the perfect place to live that meets all your needs. Here is some general advice to get you started.


Research the New Location
Before you agree to anything, you need to ensure that the new location fits your family. You must investigate the area via internet research, conversations with your future co-workers, and visits.


Find out all you can about the new school district, its reputation, and where the new school system ranks within the state for educational excellence. Visit schools your kids will be attending. Get a sense of the institution and its management.


Look into what local and state taxes you will be responsible for paying. In some states, the increase in salary you get will be negated by the taxes you owe. Make sure, before you commit, you have a good sense of where you will end up financially if you move forward.


The cost of living in an area can be a deal killer. If, for example, you are moving from Oklahoma to New York City, you should assume you will need to make more than double what you are currently making to break even.


Investigate the local real estate market and understand what it will cost you to buy a home, rent, or find an alternative living arrangement. Look at resale prices for that market and use that information to look for housing where you know you can resell if you need to do so. If you rent, look at average rents and use that information to determine where to look.


Search online and find the crime statistics for the town or city you will be relocating. Pay attention to any neighborhood crime assessments and any trends in reported crimes. Crime statistics will help you decide where to live and give you a general idea of areas you may want to avoid.


If you have a spouse or kids that work, you want to investigate the local job market. Make sure you are moving to an area that will allow your spouse to work in their field easily. It makes no sense to increase one spouse's employment if the other has to take a huge hit in salary or benefits.


Speaking of commuting time, how about your commute? Can you easily get from your new home to your job, or will there be significant traffic issues that affect when you have to leave and when you can expect to be home? If there are commuting challenges, does it make more sense to look to live closer to work or in a different location?


Check Out Amenities and Services
Research what local amenities and services exist in your new location and find out the following:
Are there parks? Where are the supermarkets? What is there to do during the week and weekend? Does the new place have the type of church you want to frequent (if you are religious) How about hospitals and Urgent Care?
Identify the services you use in your current location and activities you like to do and investigate if both are available at your new location. If the answer is "no," you will likely still take the job, but you might tailor your living location to your interests and needs.


Visit and Look at Housing
Once you have locked down the area where you want to live generally, look at the housing options in those areas. Take a weekend if you can and spend it looking at properties. A weekend trip will not only help you find your ideal living space, but it will also give you a good sense of the area you want to live.


Decide on a Moving Date and Set a Budget
Once you have a place to live, decide on a moving date that gives you plenty of time to get packed and ready. Before you pack one box, work out your budget. For example, suppose you are moving from New York City to Baltimore for a job. Figure out the cost of going with an NYC moving company and look at options based on your budget.
You want to budget your move even if your new company is moving you because moving expenses can escalate quickly. One issue with the delivery of your stuff, for example, and you could be looking at having to stay at a hotel for a few days. You will also have other expenses like meals and general travel costs, like gasoline.
The more you plan your move, the better off you will be once you get to your new location.


Say Your Goodbyes
Try and plan your goodbyes, so they do not interfere with your move. If possible, you want to have at least one day between your last goodbye and you are going to your new home.


Move
Whether moving one town over or across entire regions of the country, remember that no move is perfect, nor is it worth stressing too much over what you have no control over.


Get Settled in the New Place
Make sure you give yourself a few days to acclimate to the new surroundings. If possible, give yourself a week. That will let you start to get settled before you have to start focusing on the new job. If a buffer is not possible, prioritize what is important to you in terms of making your new space your own.


Final Thoughts
Some people can pick up and move to a new location and not break stride. Most people need a lot of planning, adjusting, and flexibility to make it all work. Follow this list of suggestions and your move will be significantly easier than if you push ahead and hope for the best.

---

Are you currently looking for a new role or are interested in changing careers?

Make sure to check out available job opportunities at gettinghired.com!

While you are there register and sign up to receive updates about jobs, events, and resources to take your career to the next level!