Black History Month: In Action Panel Wrap Up! | Getting Hired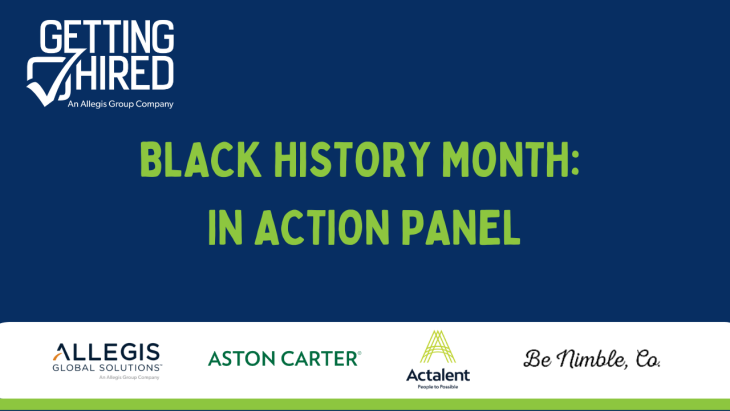 Black History Month is an annual celebration of the achievements and contributions of Black people throughout history. It is also an opportunity to reflect on the progress that has been made and the work that still needs to be done to achieve racial equity and inclusion. In the context of workforce inclusion and recruitment, Black History Month provides a platform for discussing and addressing the challenges that Black people face in the workplace and identifying strategies for creating more diverse and inclusive work environments.

The panelists for our Black History Month: In Action Panel included Getting Hired's very own Amanda Burke, Donnell Campbell from Aston Carter, Nikolas Keels from Actalent, Audra Woods from Allegis Global Solutions, Mark Harsley from BeNimble Co, along with our talented moderator, Edward "Eddie" McClenney from Allegis Global Solutions.

Here are some key takeaways from our Black History Month: In Action Panel focusing on workforce inclusion and recruitment:


Diversity is critical to business success
The panelists agreed that a diverse workforce is essential for driving innovation, creativity, and competitiveness in today's global economy. Companies that embrace diversity and create inclusive workplaces are better equipped to attract and retain top talent, build stronger relationships with customers and stakeholders, and ultimately, achieve better business outcomes.

Recruitment and retention require intentional efforts
To attract and retain diverse talent, companies must go beyond traditional recruitment methods and actively seek out candidates from underrepresented groups. This can involve partnering with community organizations, attending job fairs and networking events, and creating targeted outreach campaigns. Once hired, companies must also provide ongoing support and development opportunities to ensure that employees feel valued and have the tools they need to succeed.
Inclusion is more than just diversity
While diversity is an important first step, inclusion is the next level of commitment that organizations must make to ensure that all employees feel valued, respected, and empowered. Inclusive practices include providing equal access to opportunities and resources, creating a sense of belonging, and fostering a culture of openness, collaboration, and mutual respect.
Allies play a critical role
Allies are individuals who support and advocate for marginalized groups and work to create a more inclusive workplace. Allies can use their privilege and influence to amplify the voices of others, challenge bias, and discrimination, and promote equitable practices. The panelists emphasized the importance of creating a culture of allyship, where everyone feels empowered to speak up and take

Overall, our Black History Month: In Action Panel highlights the importance of creating a diverse and inclusive workforce and provides practical insights on how to achieve this goal. By taking these lessons to heart, organizations can create workplaces that are welcoming and supportive for all employees, and ultimately, drive greater success and growth.
---



Couldn't attend?

We have the recording included for you!

Click below to watch!








Click here to register!
To stay up to date on upcoming events click here!