Translation Services in the Global Job Market |Getting Hired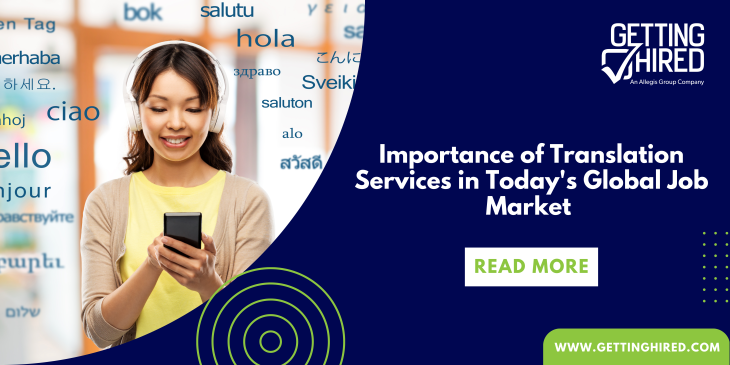 Translation services are in high demand these days. The total value of the global language industry is more than $46 billion, and it keeps growing. This is partly because today's world is more connected than ever, thanks to globalization and the internet. Consequently, businesses are expanding their reach beyond their local borders and are venturing into foreign markets.
Still, the language barrier remains a major obstacle for businesses that want to succeed in these markets. This is where translation services come in to help bridge the gap. Translation services play a vital role in today's global job market. They help businesses reach a wider audience and expand their customer base. They also enable people to communicate with others from different parts of the world and help businesses establish a global presence. Check out why translation services are essential in today's global job market.


Reaching a Broad Audience
Translation services help businesses to reach a wider audience by translating their content into different languages. This helps businesses to expand their customer base and increase their revenue. But it takes effort to reach as broad an audience as possible. This is an important process in which nothing should be taken for granted.
Modern technology also makes it possible to make translation services accessible to lots of people in different parts of the world. This makes them a truly global business that cuts across national borders.


Improved Communication
Communication is the key to any successful business venture. Translation services help businesses to communicate with people from different parts of the world in their native language. This helps to build trust and establish a good relationship with customers and partners.
The leading translation companies invest heavily in developing effective communication means and modalities. The best online translation services are renowned for their ability to provide efficient and professional customer services to clients. They also develop effective feedback loops to take customers' views into account.


More Credibility
When businesses provide content in multiple languages, it shows that they are committed to meeting the needs of their customers. This enhances their credibility and helps to build trust with their target audience. The more languages you can add to your services, the wider your target audience is likely to be.
This is important because credibility can pave the way for increased demand for translation services. They also help spread the word about the quality of translation services across the world.


Locally Relevant and Sensitive Information
Translation services help businesses be culturally sensitive by providing accurate translations that consider the cultural nuances of the target language. This helps to avoid any cultural misunderstandings that can harm the business relationship.
Cultural sensitivity is a critical factor that companies often overlook. This is a shame because the oversight can be really costly. Those who fail to take into account the sensitivities and nuances of local cultures are unlikely to understand and respond to the needs and interests of local customers effectively.


Cost-Effectiveness
Hiring a professional translation service is cost-effective in the long run. It eliminates the need for businesses to hire full-time translators or to train their employees in different languages. It also ensures that translations are accurate and consistent across all materials. Cost is always important in making translation services effective, so you should make every effort to make your services cost-effective.
To make sure you make efforts to ease the academic burden, you should make the most essay examples available online. They provide great clues on how to adhere to best practices and standards in academic writing. You can also learn a lot about developing appropriate essay structure in many different subjects and fields.


Compliance with Laws and Regulations
In some countries, businesses are required by law to provide information in the country's official language. Translation services help businesses comply with these regulations and avoid any legal issues. The earlier you take care of all legal requirements, the less likely you will face complications with local authorities.
Before scaling up the translation services, it is a judicious step to take your due diligence to find out everything there is to know about every country's legal and regulatory requirements. They may vary from country to country, so it is important to do research on all the necessary requirements and details.


Bottom Line
Translation services are essential in today's global job market. They help businesses to reach a wider audience, communicate effectively, and establish a global presence. They also help businesses to be culturally sensitive and comply with legal regulations. Investing in professional translation services is wise for any business that wants to succeed in the global marketplace.
It is important for a translation service to understand the local context and market to the extent possible. Investing in learning more about local customers' demands, needs, and interests also makes sense. These are all important pieces of data that can drive translation services to success.


Interested in partnering with us?

To learn more about Getting Hired,
click here to create an account at gettinghired.com!



---
Author's Bio

Ruby Butz is a long-timer in professional writing and freelance translation services. She started as a bilingual language tutor, moving on to build a successful career as a freelance translator. Currently, she posts regular reviews of online translation and academic writing services. Ruby has lots of followers across the world.