Beyond Labels: Celebrating Intersectionality and LGBTQ+ Inclusion in the Workplace | Getting Hired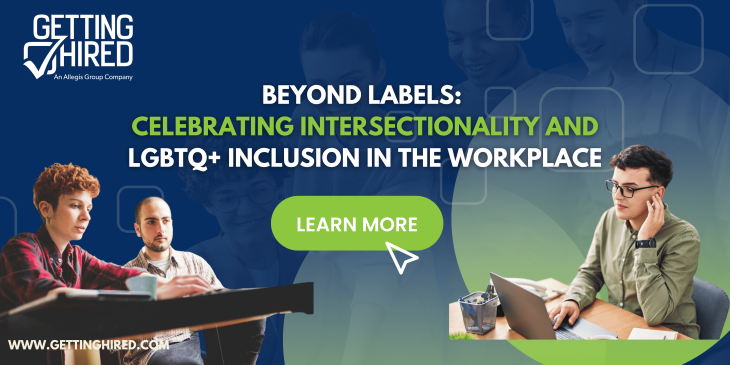 Professional culture in the US continues to evolve as the world around us grows and expands, and many of the most significant areas of development grow out of our DEI spaces. Conversations have moved from focusing on inclusion and equity to including language around intersectionality. A concept originally coined by US legal scholar Kimberlé Crenshaw in the late 1980s, is the theory that our various social identities (gender, ability, socioeconomic background, sexual orientation, race, ethnicity, etc.) create unique overlap that can contribute to increased risk of oppression or discrimination.


According to the World Economic Forum, for example, the gender wage gap in the US is predicted to close for white women in roughly thirty years, this number is estimated at over one hundred years for black women and over two hundred years for Hispanic women. The same article tells us that "more than half of lesbian, bisexual, and trans-Black and minority ethnic women (54%) reported unwanted touching (in the workplace) compared to around one-third of white women (31%).


Imagine a typical in-person interview scenario. The candidate is brought into an office to meet with the interviewer. They may shake hands, make strong eye contact, and smile at one another. Sitting across the desk from one another, they engage the interview material through conversation. Once concluded, more handshaking and smiles before they go their separate ways. Most interviewers will consider many "soft skills" when evaluating how the interview went – was the person friendly, did they appear confident, did they seem like a strong team player?

These impressions can go a long way in sifting out who will or will not be considered moving forward for the role. If the interviewee has autism, however, they could be uncomfortable with eye contact or physical contact. A person requiring a communication device or with an accent might need additional time to process question-and-answer discussions. A gender-fluid individual may have a physical presentation that doesn't appear to align with more conservative binary dress code expectations. Any of these biases could exclude a strongly qualified candidate based strictly on hiring criteria that don't reflect the position's needs. When you start combining these attributes, the likelihood that the bias will be prohibitive only increases. These same obstacles can be seen not only in recruiting but also in considering who to promote, include in development opportunities, exposure to higher level leaders, and ultimately can impact retention and employee satisfaction.


Those within the LGBTQ+ community continue to face policies and systems that inherently encourage invisibility in the workplace. More than 40% of lesbian, gay, and bisexual people and almost 90% of transgender people have experienced employment discrimination, harassment, or mistreatment according to Getting Hired. When this identity is layered with gender, race, neurodivergence, ethnicity, or ability it is clear we still have a lot of work to do.

However, organizations' continued commitment to progressive, systemic DEI initiatives ensures that we are moving in the right direction as we continue to important questions:
Can we rethink our physical locations to increase accessibility? Should this include alternate work schedules or remote possibilities?
Are our evaluation matrices influenced by factors that aren't truly performance-based?
Do we carve out opportunities for development and advancement for the underrepresented?
How can we invite the voices of those impacted by our policies to inform the changes we need to make?

In the meantime, whatever our role we can work individually to create space for others to be seen, heard, and met as they are to promote authenticity that impacts our day-to-day excellence in the ever-changing corporate landscape of America.
Sources – Learn More:

Content Contributor:

Mandy Kampen is a Program Specialist with AGS's Caterpillar team. She is an avid hobbyist, a self-proclaimed "indoor cat" who loves all things dedicated to nerdiness, spirituality, or wellness. Her current home is in Peoria, IL with her fiancé Angela and their two furbabies, Baxter and Sir Henry Fancypants the Third.


---
Searching for a new position or switching careers?





To apply and discover opportunities with our inclusive partners that are HIRING NOW, create an account at

gettinghired.com!



Don't forget to sign up for our PRIDE: In Action Panel by clicking

here.