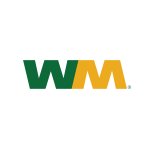 Houston

,

Texas

,

United States
Houston

,

Texas

,

United States
About Us
World changing. Future-minded. Sustainable. Community-focused.
Waste Management is the largest environmental solutions provider in North America, serving more than 21 million municipal, commercial and industrial customers in the U.S. and Canada. We have invested in developing waste solutions for a changing world. Today, this includes not just disposal and recycling, but personal counseling to help customers achieve their green goals, including zero waste.
Our mission is to maximize resource value while minimizing impact in order to further both economic and environmental sustainability for all of our stakeholders.
At Waste Management, we are committed to promoting and fostering equal opportunity for all employees in all areas of our company. Our goal is to make a workplace where everyone is valued and respected. Our diversity mission:
To champion an inclusive culture that embraces individual differences and unique needs while driving innovation

To leverage the diverse talent of our workforce to enhance business growth

To ensure our workforce is reflective of the global marketplace and the divergent populations we serve

To cultivate relationships with strategic business partners that will ensure our ability to access, attract, and retain a diverse workforce.
Inclusion is how we embrace and enable diversity at Waste Management. Our organization, investors, vendors and customers benefit from the broad perspectives of our diverse workforce. We are committed to building our diversity efforts, as well as capitalizing on the differences of our internal talent.
WM Supports Veterans
Our mission of environmental service may be different from the military. However, Waste Management and the Military share many common traits; the most important being the drive to be the best.
You will likely work with a fellow veteran at WM because one in fourteen of our employees is former military. In fact, we hire a veteran every day of the year.
Click here to see our Military Skills Translator to find recommended careers based on your service experience.
EEO and Accommodation Statement
Here at Waste Management, we comply with federal law by offering Equal Employment Opportunity. If, because of a medical condition or disability, you need a reasonable accommodation during the employment process, email: careers@wm.com , or call 1-877-220-JOBS with the nature of your request.

Culture Initiatives:
Disability (Neurodiverse), Disability (Physical), BIPOC (Black, Indigenous, People of Color), LGBTQIA+ (Sexual Orientation), Advancing Women, Veteran, Generational Dynamics (Age Friendly), Remote & Flexible Working, Returnships / Re-entering Workforce
Employer Partner Tenure:
6 Year Employer Partner