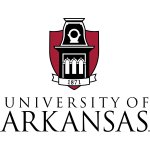 University of Arkansas
University of Arkansas
Fayetteville

,

Arkansas

,

United States
Fayetteville

,

Arkansas

,

United States
About Us
Founded in 1871 as a land grant institution, the University of Arkansas is classified by the Carnegie Foundation among the top two percent of universities in the nation with the highest level of research activity. Ten colleges and schools serve more than 27,100 students with more than 200 academic programs. University of Arkansas students earn nationally competitive awards at an impressive rate and represent 50 states and more than 120 countries.
Located in the stunning Ozark Mountains of Northwest Arkansas, Fayetteville is home to the University of Arkansas campus, known for its spectacular views and ample green spaces. Fayetteville is considered one of the country's finest college towns, and the surrounding northwest Arkansas region is regularly ranked one of the best places to live in the U.S. Some of the nation's best outdoor amenities and most spectacular hiking trails are within a short drive of campus.
As an employer, the University of Arkansas offers a vibrant work environment and a workplace culture that promotes a healthy work-life balance. The benefits package includes university contributions to health, dental, life and disability insurance, tuition waivers for employees and their families, 12 official holidays, immediate leave accrual, and a choice of retirement programs with university contributions ranging from 5 to 10% of employee salary.
Please see our website for more information: jobs.uark.edu
EEO Statement
The University of Arkansas is an Affirmative Action/EOE institution committed to achieving diversity in its faculty and staff. We encourage applications from all qualified candidates, especially individuals who contribute to diversity of our campus community. The university welcomes applications without regard to age, race/color, gender (including pregnancy), national origin, disability, religion, marital or parental status, protected veteran status, military service, genetic information, sexual orientation or gender identity. All applicant information is subject to public disclosure under the Arkansas Freedom of Information Act and persons must have proof of legal authority to work in the United States on the first day of employment.
Culture Initiatives:
Advancing Women, Disability (Neurodiverse), Disability (Physical), BIPOC (Black, Indigenous, People of Color), LGBTQIA+ (Sexual Orientation), Generational Dynamics (Age Friendly), Remote & Flexible Working
Employer Partner Tenure:
6 Year Employer Partner