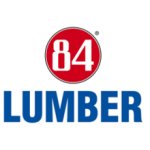 Eighty Four

,

Pennsylvania

,

United States
Eighty Four

,

Pennsylvania

,

United States
About Us
84 Lumber Company's origins date to 1956 when Joseph A. Hardy III opened the original 'cash and carry' lumber yard in the rural town of Eighty Four, Pennsylvania. Within a few years, Joe began to grow the company, expanding beyond the tristate area and opening new stores all across America, while continuing to follow the "no frills" approach that had led the young company to success.
Today, 84 Lumber operates more than 250 stores, plus component plants, EWP centers, door shops and kitchen and bath design centers in 30 states and employs more than 4,200 associates. Over the past several years as residential building has waned, 84 Lumber has expanded into construction services in both the residential and commercial segments offering turnkey material/labor packages for the installation of framing, roofing, windows, doors, trim, insulation, drywall, cabinets and more.
Since our founding, 84 Lumber has actively supported local, regional and national charitable organizations ranging from Volunteer Fire Departments, to chapters of the Red Cross and United Way, to the national efforts of Habitat for Humanity. We believe it's our responsibility to help those individuals and organizations most in need, or that can make the greatest positive impact. This is called the 84 Lumber Building Hope campaign.
Benefits
84 Lumber cares about the financial future of you and your family. We also want to reward you for your loyalty to our team. We are dedicated to providing our Associates with the opportunity to enjoy a lucrative retirement from our company! All of our associates are eligible for our profit sharing plan after one year of employment, 401(k), development awards and incentives, and medical, dental and vision insurance coverage.
Our Diversity Policy
"84 Lumber is committed to continually providing opportunities for all Associates creating an environment where each person is valued and where we can build futures for everyone…one person at a time. We believe in creating an atmosphere of diversity and inclusion that also enhances our customer's experience."
– Maggie Hardy Magerko, President & Owner
At 84 Lumber we value Diversity because it demonstrates an ongoing commitment to people and to fair employment practices. We at 84 Lumber believe that Diversity is every 84 associate's responsibility, from our top leadership team throughout our entire company. We understand and firmly believe that a well-managed, diverse work force expands our marketplace and in return reaps many rewards.
EEO/ Accommodation Statement
84 Lumber is an Equal Opportunity/Affirmative Action Employer. All qualified applicants will receive consideration for employment without regard to race, color, religion, sex, national origin, disability, protected veteran status, or characteristic protected by applicable federal, state, or local law."
In order to ensure reasonable accommodation for individuals protected by Section 503 of the Rehabilitation Act of 1973, the Vietnam Veterans' Readjustment Act of 1974, and Title I of the Americans with Disabilities Act of 1990, applicants that require accommodation in the job application process may contact 1-800-664-1984 for assistance.
Culture Initiatives:
Disability (Neurodiverse), Disability (Physical)
Employer Partner Tenure:
6 Year Employer Partner