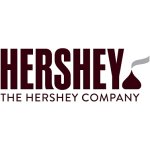 The Hershey Company
The Hershey Company
Hershey

,

Pennsylvania

,

United States
Hershey

,

Pennsylvania

,

United States
About Us
The Hershey Company, celebrating its 125th anniversary in 2019, is headquartered in Hershey, PA., and is an industry-leading snacks company known for bringing goodness to the world through its iconic brands, remarkable people and enduring commitment to help children succeed. Hershey has approximately 16,500 employees around the world who work every day to delivery delicious, quality products. The company has more than 80 brands around the world that drive more than $7.8 billion in annual revenues, including such iconic brand names as Hershey's, Reese's, Kit Kat, Jolly Rancher, Ice Breakers, Skinny Pop and Pirate's Booty.
For 125 years, Hershey has been committed to operating fairly, ethically and sustainably. Hershey founder, Milton Hershey, created the Milton Hershey School in 1909 and since then the company has focused on helping children succeed.
DIVERSITY AT HERSHEY
Working at Hershey is built on agile collaboration with a bias for action, openness to change and building together. If you're decisive, enjoy smart risk taking and thrive on opportunity, Hershey is the place for you.
The foundation for our vision of global growth is a vibrant, diverse workforce. Our eight Business Resource Groups (BRGs) support every employee around the world with an inclusive work environment. We rely on these groups for finding and developing the kinds of talent, skills, knowledge and cultural awareness that will ensure innovation and success for The Hershey Company into the 21st Century. Hershey's BRG's include the Abilities First, African American, Asian, genH(Generations), Latino, Prism (LGBTQ and Allies Affinity Group), Veterans and Women's group.
EEO Statement
The Hershey Company is an Equal Opportunity Employer. The policy of The Hershey Company is to extend opportunities to qualified applicants and employees on an equal basis regardless of an individual's race, color, gender, age, national origin, religion, citizenship status, marital status, sexual orientation, gender identity, transgender status, physical or mental disability, protected veteran status, genetic information, pregnancy, or any other categories protected by applicable federal, state or local laws.
Accommodation Statement
If you are a qualified individual with a disability or a disabled veteran, you have the right to request a reasonable accommodation if you are unable or limited in your ability to use or access our online application process as a result of your disability.
To request an accommodation, please call 877-804-1794. If you receive a voicemail prompt when you call, please be sure to provide us clear contact information so that we may return your call.
You may also email a request for accommodation to ApplicationHelp@hersheys.com. Please be sure to include 'Accommodation Needed' in the subject line. This will ensure that your email is routed to the appropriate contact who will handle your request.


Culture Initiatives:
Disability (Neurodiverse), Disability (Physical)
Employer Partner Tenure:
10 Year Employer Partner