Resolutions to be More Inclusive in the New Year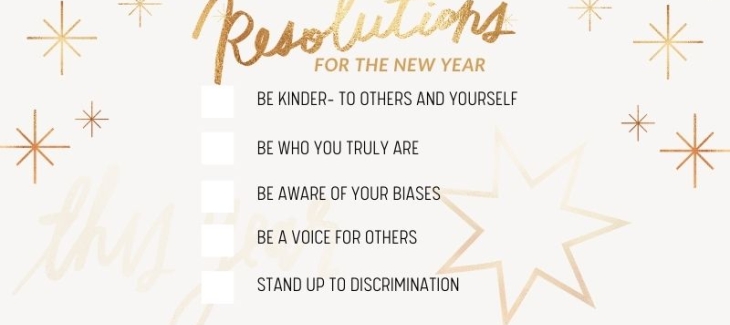 New Year's resolutions can be defined as how a person wants to continue good practices, change something to make it better, or accomplish a new task. Resolutions can be fun and exciting, and in the workplace, this is a great time to set intentions and goals for the upcoming year.
It is important that when setting New Year's resolutions, that there is some reflection. Why am I setting this goal? How can this benefit the work environment? What can I do to help hold my team accountable? This can be a good way to keep yourself and the team on track when moving forward.
It is important to note that even though this is the time of year to set goals and new beginnings, it is always important to evaluate throughout the year and make changes as needed. It does not take a holiday to make sure that everyday is inclusive, it should always be inclusive.
Here are some ways to make your new year happier, healthier, and hopefully see positive changes for equality and diversity.
Be kind.
Be kind. To not only yourself, but others. A working environment is not only stressful to some but can be a lot of hard intense focus throughout the day. Being kind to others allows everyone to feel more at ease and everyone can truly start to enjoy the work they are doing and the people around them.
Be who you truly are.
Be who you truly are, and also support those around you for them being who they are. Having this mindset allows for us to be more inclusive and it lets others know that we are aware and supportive of others expressing themselves however they may choose.
Be aware of your biases.
Be aware of your biases. Take this time to reflect and recognize what these could be and act on them to make it better. There are many online quizzes that can help navigate what unconscious biases you have, and this can help move you forward to a better 2022.
Be a voice for others.
Be a voice for others, and listen to what they have to say, so you can help be the voice. Highlight the voice and do not allow yourself to speak over it. When someone voices how they feel or express what is going on, allow yourself to reflect and think about the best way to have their voice be heard.
Stand up to discrimination.
Stand up to discrimination. Being able to challenge racism, sexism, or other discriminatory behavior can feel scary, but being able to have these conversations allows for change. Before opening this dialogue, make sure you are in a safe and comfortable environment. Being calm and staying calm allows for a more productive conversion. Being supportive of each other can be incredibly important, and it is important to stand up against any sort of discrimination.
This year was filled with more craziness than one could have ever imagined. It is important that as we go into a new year, we can find balance and support one another. It is important to remember that everyone has a story and not everyone's the same. We have to move forward with a more inclusive mindset, so we can come together as teams of people and make life a little easier everyday.